Crystal Infused Water Bottles and The Benefits of Drinking Gem Elixir
Okay, so first of all, you must be wondering why sipping from a crystal water bottle is trendy by nature. I mean, who wouldn't want to drink water from crystal water bottles? They are totally stylish and unique. They are practically a sight for sore eyes. Just think about it! How can a glass bottle containing a crystal not be pleasant to look at?
But it's not just about the aesthetic allure, though let's be real, crystal water bottles are a feast for the eyes! Beyond their mesmerizing beauty lies the heart of their true purpose. Crystals are so much more than pretty ornaments; they are sacred conduits of life-changing energy and healing. When you sip from a crystal-infused water bottle, you're not just hydrating your physical body—you're inviting an infusion of love, light, and high-vibrational energy into your very being.
Imagine this: Each sip is like a warm hug for your soul, a calming embrace for your mind, and an elixir of serenity for your spirit. Crystals can offer not just hydration, but healing on emotional, mental, and spiritual levels. They help you find your center, relieve the stresses that weigh on you, and even transform anxiety into tranquility. So when you drink from a crystal water bottle, you're not merely quenching your thirst, you're nourishing every facet of your magnificent existence.
The History and Ancient Beliefs Surrounding Crystals
The allure of crystals is as old as time itself. Throughout history, civilizations from every corner of the world have revered and incorporated these natural wonders into their cultural, spiritual, and medicinal practices.
Ancient Civilizations: Many of the world's ancient civilizations, including the Egyptians, Greeks, Romans, and Chinese, recognized the beauty and potential power of crystals. The Pharaohs of Egypt, for example, were often buried with quartz crystal and lapis lazuli, believing that these stones would guide them in the afterlife. Similarly, ancient Greeks often turned to crystals for healing and protection. They believed in the protective powers of amethyst against intoxication, and even the word 'amethyst' is derived from the Greek word 'amethystos', which means 'not drunken'.
Spiritual and Healing Practices: Crystals played a pivotal role in indigenous and shamanic rituals. Tribes in both the Americas and Australia, for instance, incorporated crystals in their ceremonies, believing them to be conduits of energy and the Earth's spirit. In India, the concept of chakras, or energy centers in the body, has been closely tied to the use of crystals, where different stones are believed to resonate with specific chakras to promote healing and balance.
Medicine and Alchemy: Crystals were also believed to have medicinal properties. Medieval European physicians would incorporate crushed crystals into their remedies. In ancient Chinese medicine, jade was especially revered, not just as an ornamental stone but also for its purported healing properties.
Symbolism and Adornment: Beyond their perceived spiritual and medicinal properties, crystals have also been symbols of status, power, and beauty. Royalty and nobility in various civilizations wore jewelry embedded with precious stones, both as a statement of their stature and as talismans for protection and prosperity.
Over time, as science and technology advanced, the direct medicinal use of crystals gave way to more symbolic and spiritual applications. However, their allure has never faded. Today, many still turn to crystals, drawing on these ancient traditions, in the search for healing, balance, and connection to the Earth. It's a testament to the timeless wonder and mystique that these natural formations inspire in humanity.
Bridging Ancient Wisdom with Modern Belief
Embracing the power of crystals in today's world requires a blend of historical reverence and contemporary openness. You simply must keep an open heart about the transformative energy of crystals! While some skeptics may say that the amazing feelings we experience are just a result of hydration, those of us in the crystal community know there's so much more to it than that. Crystals within these divine water bottles are not just mere stones; they're ancient tools of healing, energy, and intention.
The truth is, we've only begun to scratch the surface of the spiritual alchemy that's possible with crystals and crystal-infused water. So, if you're drawn to delve deeper into this magical world, please, keep reading and let your soul be your guide!
What Kind of Crystal Infused Water Bottle Should I Go For?
It's only logical that before buying any crystal infused water bottle, you should do a little research. This research will help you determine the properties of the crystals/crystal contained in your water bottle and to ascertain if there are any health risks associated with using these bottles. If you are not sure about these crystals or maybe you already have a medical condition to be wary of, then it's recommended to do your research carefully, or better yet, consult your doctor.
However, most crystals out there are generally safe and pose no threat to our health. Such crystals include the quartz crystal. This crystal is made of silicon and oxygen, which are actually good elements and may be helpful to our bodies. 
For instance, silicon is an essential mineral that helps to maintain skin integrity and protect us from diseases in general. It is a major component of collagen, which is a connective tissue that keeps the skin elastic and plump. Silicon also plays a major role in supporting other connective tissues in our joints and blood vessels, thereby maintaining the health of these blood vessels and protecting them from injury.
A strong and flexible blood vessel is only achieved with the aid of silicon. When it comes to bone health, the importance of silicon cannot be overemphasized. Also, in postmenopausal women, silicon helps to reduce the chances of them suffering from osteoporosis. Oxygen on the other hand is precisely what keeps us alive. They are also a major component of oxygenated blood and red blood cells. 
Amethyst Crystal Water Bottle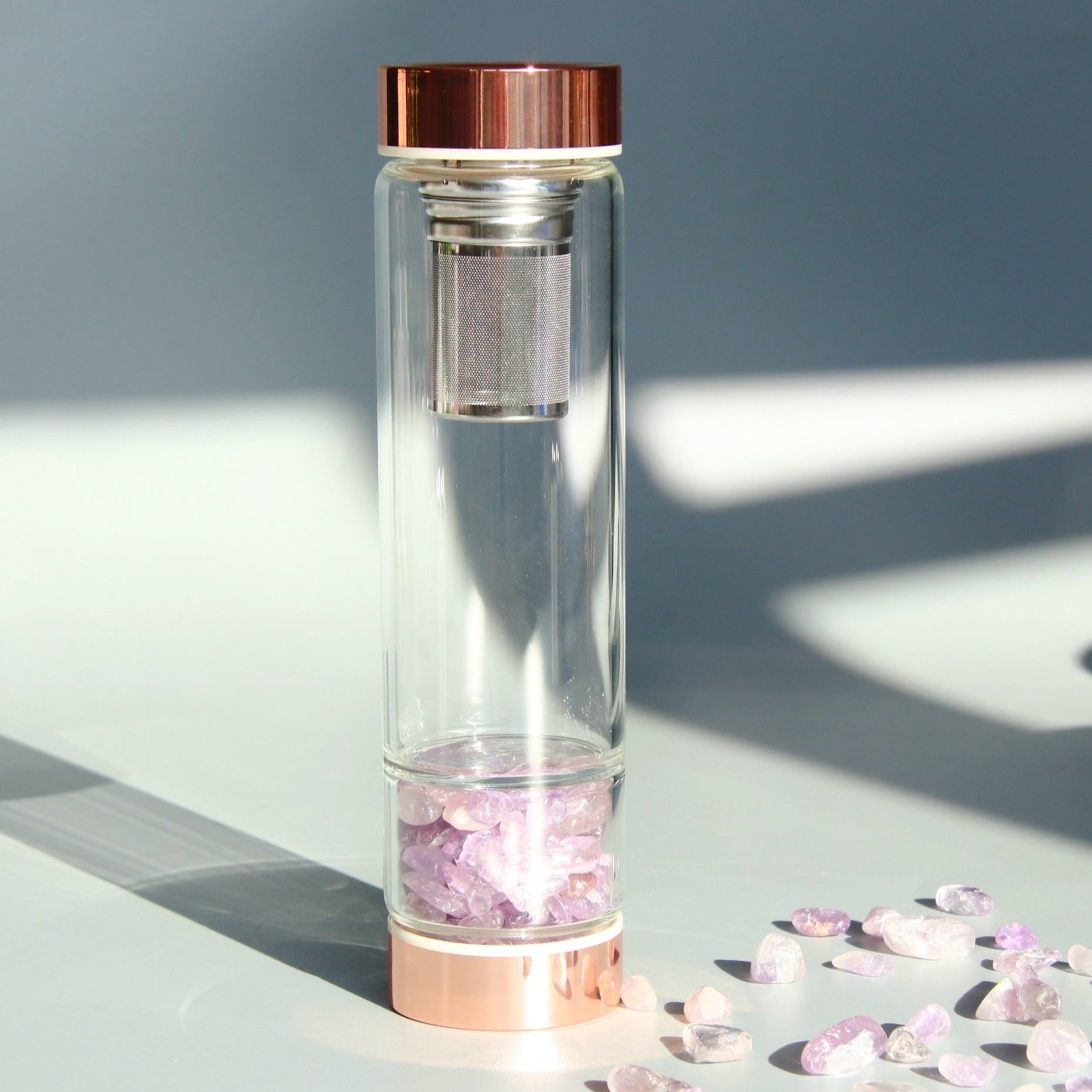 Amethyst crystals have the tendency to promote inner peace and give you a Sense of calmness. It has been stated that these crystals can help you find balance in your life. Drinking from amethyst crystal infused water bottles is definitely a good step in the right direction towards peace and tranquility. In our everyday lives, we struggle to find a balance between our emotions and responsibilities and more often than not, we end up in crossroads between logical thinking and decision making. What amethyst does is to help you make these critical decisions with careful consideration and keep you emotionally prepared for the consequences after.
Keeping your Amethyst crystal close is a good thing and trust me, there is no better way to do this than to have it infused in a water bottle. It becomes easily accessible this way and let's not forget, it does give your bottle a snazzy appearance. When it comes to emotional control and balance, as well as getting rid of negative energies and thinking, amethyst crystals should be your number one choice. Balancing mood swings, relieving stress and anxiety, and also alleviating panic attacks can be achieved through amethyst crystals.
As a side tip, when amethyst crystals are infused in water, a drink from such water not only keeps you fresh, but it can also relieve headache and tension. It keeps you focused and ensures that you make the most out of your day by infusing your mind and body with a lot of positivity.
Rose Quartz Crystal Water Bottle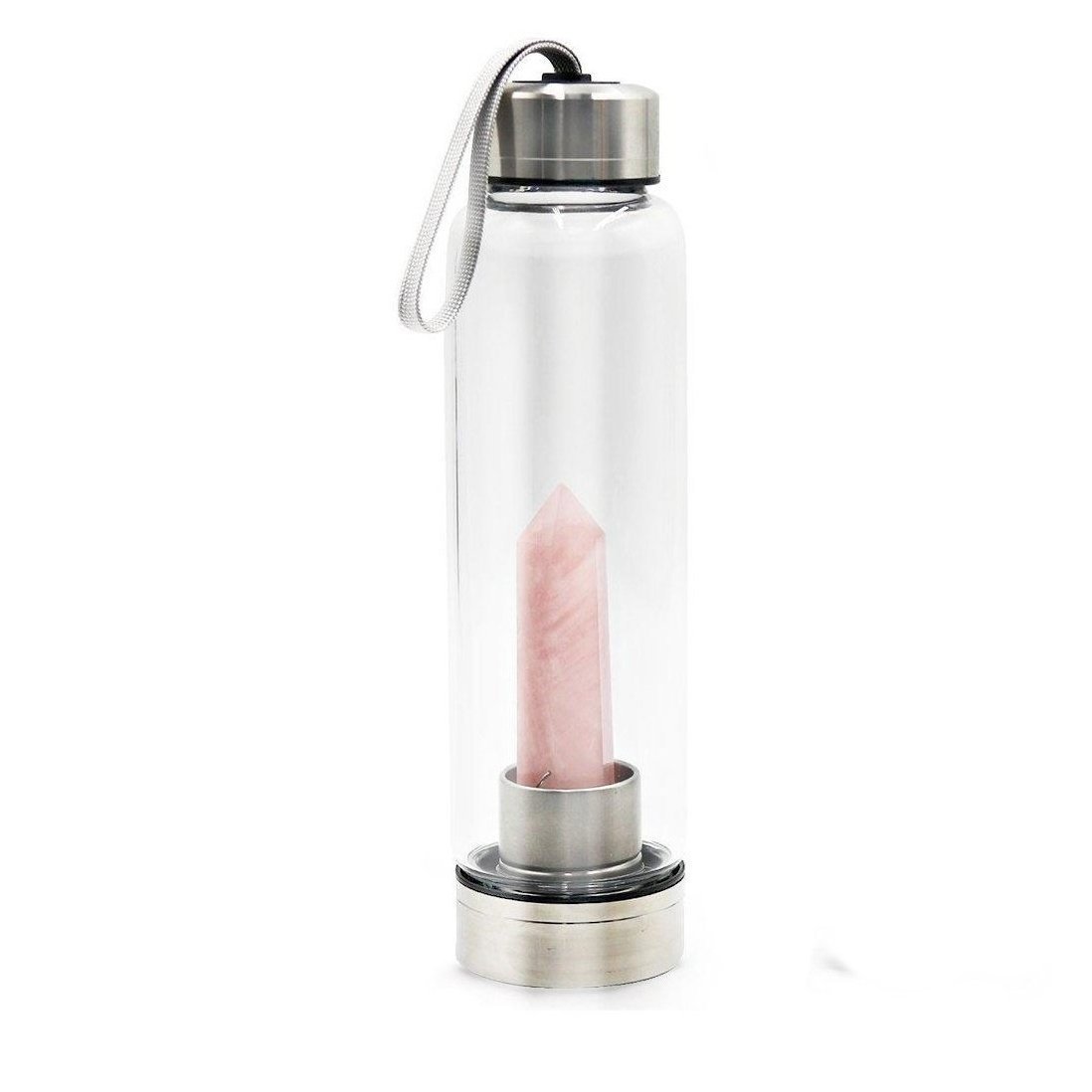 Apart from the amethyst infused water bottles, the rose quartz crystal infused water bottles is also a good option. This crystal is really the embodiment of love. It fills you up with so much positive energy, such that these energies can be intensely felt by your friends, family and even colleagues at work. If you want to bring peace, harmony, and love into your life, then the rose quartz crystal water bottles is your best bet. 
When you are dealing with a lot of emotional stress and trauma, and you find it difficult to move forward with your life, take a drink from your water bottle everyday and constantly fill yourself with love and warmth. Doing this will help keep you feel self-love and gratitude for where you are in life right now. It practically gives you the courage and will to live by helping you to constantly face your fears and pushing you to break your limits every single day. Drinking water from the Rose Quartz water bottles can help keep both your mind and body fresh and healthy. 
Conclusion
Crystal-infused water bottles serve as both a stylish accessory and a source of mindful hydration. While scientific research on the therapeutic benefits of crystals is still evolving, many find that these bottles offer a gentle form of emotional balance and a sense of well-being. It's important to approach this with an open mind but also a critical eye, understanding that individual experiences may vary.
So, if you're intrigued by the concept, incorporating a crystal-infused water bottle into your daily routine could offer more than just hydration. It might also provide a subtle, yet meaningful, enhancement to your emotional and mental landscape. Just remember that while crystals can be a part of a holistic approach to wellness, they're not a substitute for professional medical advice or treatment.
---
---